It's time to rethink how we get around
Canberra is a sprawling city which the community traverses daily for social, recreational, household and employment activities. Transport emissions contribute 60% to the ACT's direct greenhouse emissions, primarily through the use of petrol and diesel vehicles. Our transport choices have a significant impact on our environment, the liveability of our city, and our productivity, health and wellbeing. We need to build a strong public transport network and enable active transport as a viable option for commuters, reduce emissions from cars, and transition to an electrified transport system.
It's important for us to have a plan to drive down transport emissions while maintaining liability and equity of access. Strong targets to decrease car journeys, and increase active travel and public transport will help. So will investment in infrastructure for active travel – a network of separated cycle paths, well connected and well maintained; well maintained footpaths and safe local streets that make walking and cycling an option for all.
A shift in technology will also support emissions reductions – electrification of buses and other public vehicles, and private vehicles including cars and bikes. While two electric cars might be out of reach for any families in the short term, switching one care our for a couple of e-bikes could well be a workable solution. And let's face it, we are going to need less cars on roads in the future or face significant traffic congestion. We need Governments to put in place incentives to increase the uptake of electric options, and invest in a high quality, convenient and efficient public transport system.
Do you want to reduce your transport emissions?
Find out everything you need to know about how to make the move to more sustainable and active travel!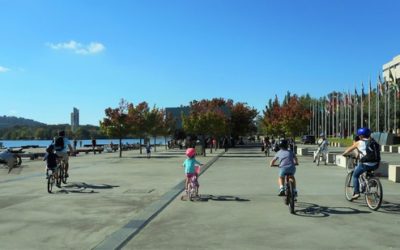 The Conservation Council ACT Region, Pedal Power and Living Streets Canberra have launched a community petition calling on the ACT Government to take strong action to show they are serious about dealing with our climate emergency. implement key measures that will improve travel options for Canberrans who walk, cycle and use public transport.
JOIN US to help shape a sustainable future.