At last year's CBR360 Circular Economy Symposium, Lids4Kids CEO Emma Holliday said "our ultimate goal is to not exist". That is, they would be happy for their volunteer-led community organisation to no longer need to exist if it meant that industry had stepped up and solved the problem of plastic lid pollution.
With that concept in mind, we welcome the ACT Government's new "Make your next choice electric" tool, developed in partnership with Choice, as a significant step towards making our Make the Switch Calculator redundant! When the Conservation Council developed the Make the Switch Calculator and website in 2020 (funded by an ACT Government Community Zero Emissions Grant), it was ground-breaking, definitely the first of its kind in Australia, possibly the world. We would like to think that the ACT Government thought our Calculator was so good that they should take it to the next level!
So, let's look at the features of each, other than that the Choice tool contains lots of pretty graphics!
Both the Make the Switch Calculator and the Choice tool are multi-step online forms that start by asking questions about your household and current appliances for heating, hot water and cooking. They both finish by presenting an estimate of the potential cost savings and emissions reductions that your household could accrue by switching to electric appliances, along with estimated running cost savings and upfront installation costs. Both forms allow you to email the results to yourself.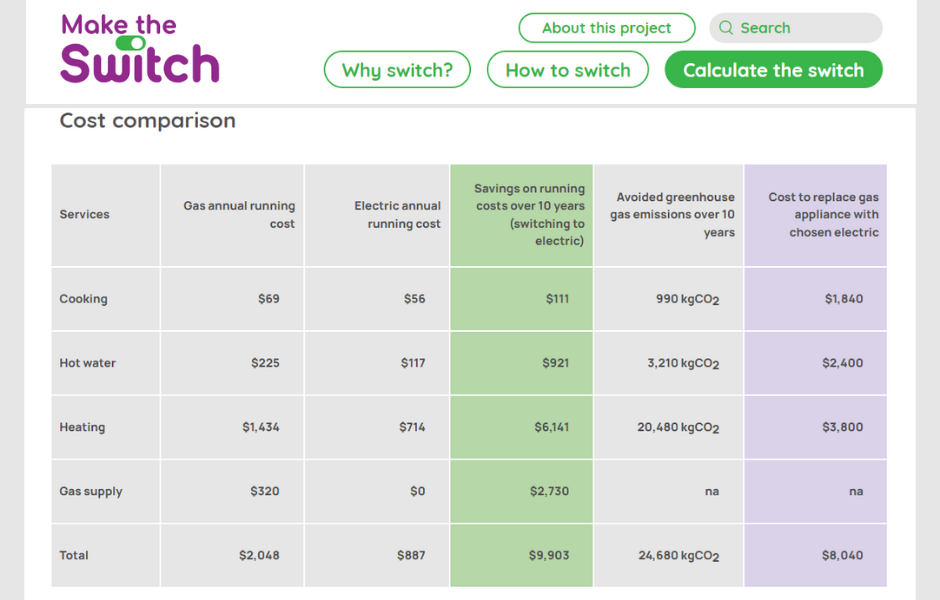 The Make the Switch Calculator offers users the option to input their household's actual gas consumption details and electricity tariff for a more refined estimate of potential savings. It allows you to select from categories of replacement electric appliances as well as examine the difference if you choose, for instance, to keep your gas cooktop and not close your gas account right away. The results are presented in a neat, compact table and simple but compelling graph comparing gas with electric.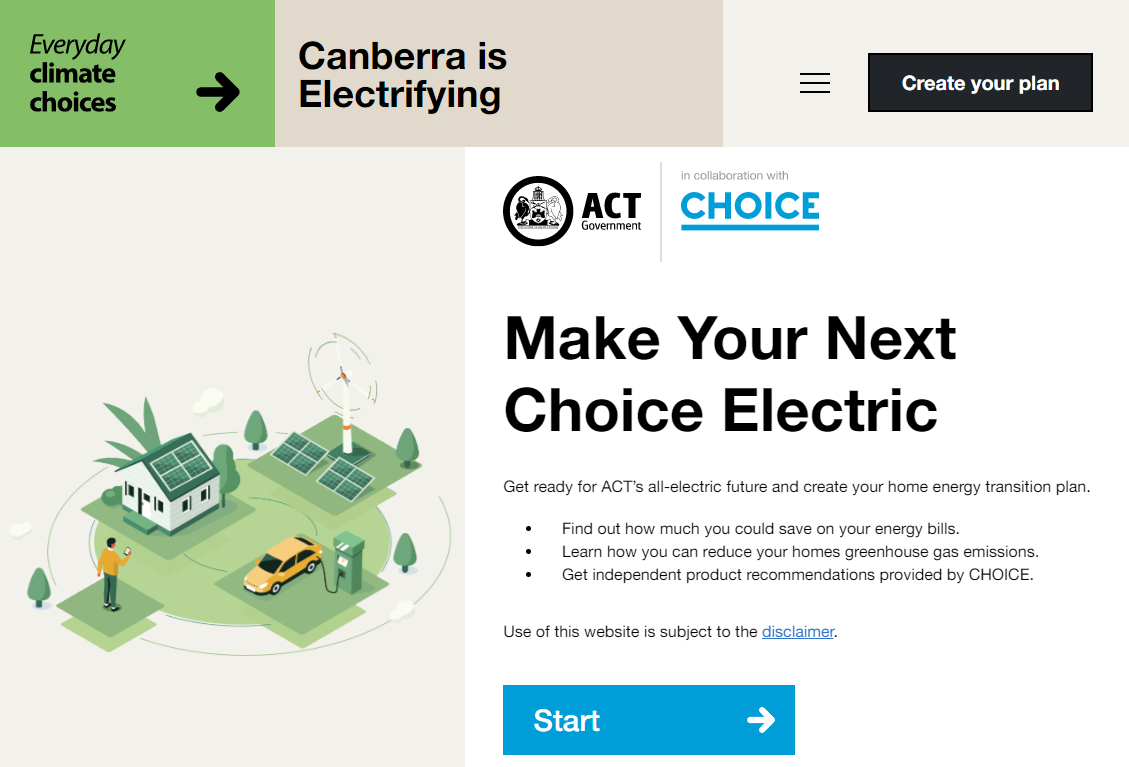 The Choice tool does not include those functions, but instead, the core added value of this "Australian-first partnership" is that the tailored report lists specific electric appliance recommendations that you can filter by rating, price, size and efficiency (for air conditioners and stoves, but not hot water heat pumps) — a great inclusion to get your shopping for new appliances started. This independent review information normally sits behind a paywall for subscribers ($26.95 for 3 months access). (Tip: Library members can read Choice magazine for free at
Libraries ACT
). The Choice tool asks about Concession Cards and collects a bit more geographic and household data.
Both sites hold further information and links to financial resources, including the ACT Government's Sustainable Household Scheme where you can apply for up to $15,000 interest-free loan to help with the upfront costs of electrification.
On balance, we reckon there is unique value in both tools that in combination provide Canberra households with oodles of useful, actionable information, so we will not be ditching the Make the Switch Calculator any time soon! Rather than redundancy, we will celebrate the amplification of the electrification message — the more the merrier!
Did you know that the ACT Government will be introducing regulation to prevent new gas connections later this year? If you're building or renovating, be prepared to go all-electric! If you own your own home or an investment property, get started on your household's electrification today by visiting both maketheswitch.org.au and climatechoices.act.gov.au/energy/switching-from-gas. The sooner you switch, the more you will save and help stabilise the planet's climate.
Does your workplace, school, community group or team want to learn about the benefits of electrification? We can run a workshop for you, featuring demonstration of induction cooking! Get in touch with Ellora or Kirsten.
Read more about the Conservation Council's gas-free advocacy in our submissions.