ACT Election 2020
The ACT has the opportunity to become a world leading climate-resilient region that is powered by a circular economy. We have the opportunity to protect our unique natural treasures for current and future generations. But we must be ambitious and we must act now.
We've outlined our priorities for all candidates and parties across climate, nature, water, transport, waste and urban sustainability.
Take action
We need as many Canberrans as possible asking all election candidates to step up for the future of our city. Our handy campaign action guides will help you to take action during the 2020 election campaign and beyond.
The Conservation Council ACT Region is the peak environment body in the ACT.
We advocate, campaign, and engage with the community to protect our local environment.
Join us to help build a brighter future.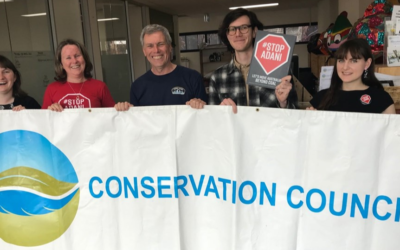 We are looking for volunteers to contribute to our events, campaigns and communications.
Events Assistant: Online Spring Dinner
40 year anniversary interviews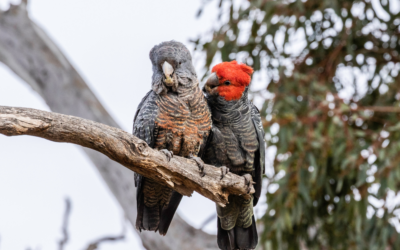 Monday 7th September was Threatened Species Day, a day that marks the death of the last Tasmanian tiger in 1936, and an opportunity to reflect what we can do to cease the rate of extinction in Australia.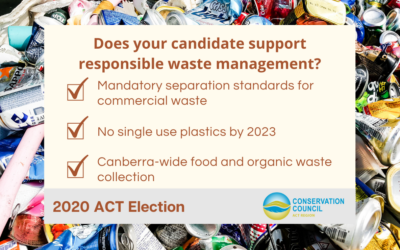 ACT residents have high consuming lifestyles. Single-use plastics continue to be utilised in the ACT, posing major threats to wildlife, waterways and our health. Food and organic waste sent to landfill contributes 4% to the ACT's greenhouse gas emissions and squanders...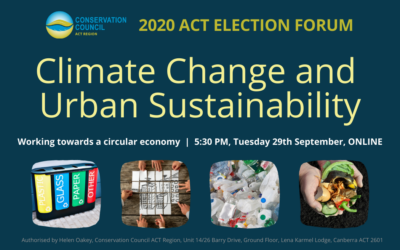 Online Election Forum
Tuesday 29th September
5:30 – 7pm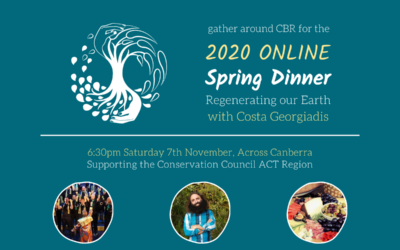 6:30 pm, Saturday 7th November
Online (around Canberra)
Guest speaker Costa Georgiadis
Food and drinks delivered to you