Gas-free ACT
UPDATE: 6th March 2020
It's been a busy few weeks for our Gas-Free ACT campaign!
Firstly, a huge thank you to everyone who signed and shared our petition calling on the ACT Government to stop rolling out new gas – to ALL new residences in the ACT. The ACT Government has a climate change plan to phase out gas in the ACT by 2045, so it seems sensible to us that not putting new houses onto dirty polluting gas is a good place to start!
As such, changes to the planning laws which took away the rule that made gas pipes mandatory in new suburbs was very welcome. However it really only brings the ACT into line with other Australian jurisdictions where gas is already optional for new developments. But we think the ACT Government could go further, and stop all new homes being connected up to the gas network.
In positive news, Evoenergy has indicated that they won't be rolling out gas pipes in new suburbs from 2021, as per their draft plan for the gas network – a win for the community! But what the GN21 plan does reveal is that Evo plans to spend $34.8m over the five year period 2021–26 connecting new dwellings in established suburbs, including multi-unit developments. This is in spite of the ACT Government's clear policy to phase out gas!
You can let Evo know that you don't want any more Canberra households to be reliant on a dirty fossil fuels to heat their homes, hot water and cook with – it's time to go all-electric! Provide feedback on their draft plan by emailing them at consumerfeedback@evoenergy.com.au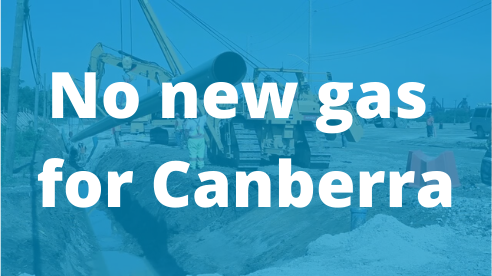 ACT community petition — No new gas for Canberra
Our petition is now closed
Thank you to everyone who signed our petition. We encountered universal support from every Canberran we spoke with about the need to phase out gas in the ACT and the need for decisive policy now to prevent further expansion of the gas network.
Here's what our petition said and called for
Gas is a dirty polluting fossil fuel. To reach our emissions targets, and build a safe climate, the ACT needs to get off gas. With the ACT running on 100% renewable electricity, running clean energy houses is easier than ever. A national leader, the ACT has committed to zero net emissions by 2045, and our Climate Change Strategy commits to getting off gas by 2045. But Evoenergy is continuing to roll out the gas network to new suburbs, and expand their customer base over the next 5 years. The ACT Government has made no moves to stop the gas network expansion, despite this being the cheapest and easiest way to reduce emissions over the next 5 years.
I call on the ACT Government to:
Immediately remove the existing mandate for gas infrastructure in new developments in the ACT.
Stop the roll out of new gas networks in all new suburbs.
Stop all newly constructed residences from joining the gas network.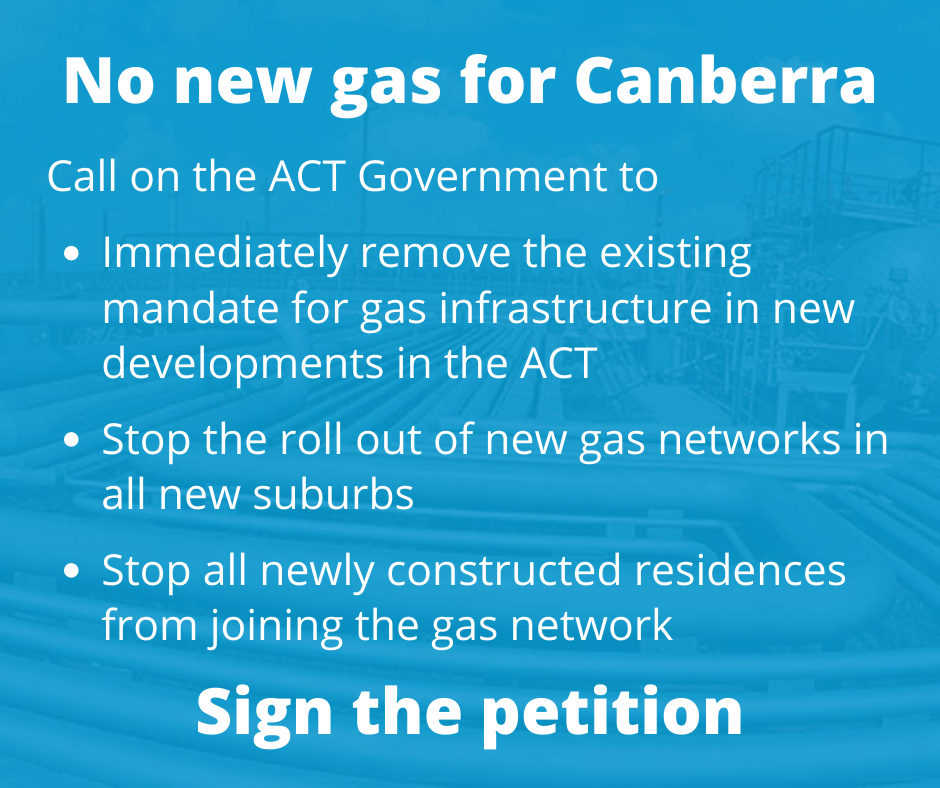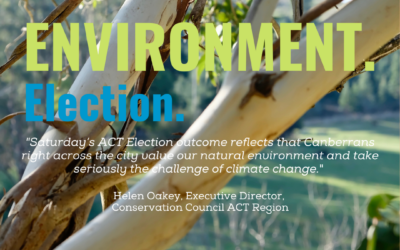 Saturday's ACT Election outcome reflects that Canberrans right across the city value our natural environment and take seriously the challenge of climate change, signalling that these issues are important throughout our community, " said Helen Oakey, Executive Director of the Conservation Council ACT Region.